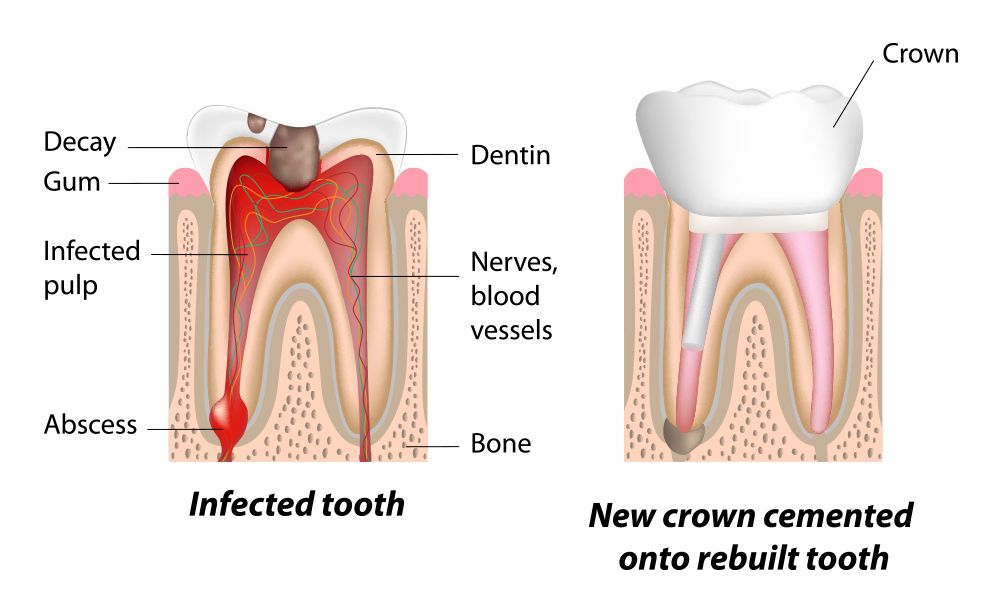 A root canal infection is a dental emergency that requires immediate endodontic treatment. The doctors of Desert Dental Alternatives in Cathedral City, CA, can remove infected tissue to restore oral health and alleviate pain.
Root canal therapy requires the removal of natural tooth structure. Dental crowns are often used to restore teeth after root canal therapy. Our doctors explain how dental crowns work and how they might be used to restore one or more of your teeth.
Why Crowns Are Placed after Root Canal Therapy
Your root canal infection will be treated as a dental emergency. Once you arrive at our Cathedral City dental practice, you will be given local anesthesia to address your pain. Oral sedation may also be used.
To reach the infected tooth cavity, one of our doctors will use special tools to access the interior of the tooth. The doctor can then clean the interior of the tooth before filling it with a synthetic material to preserve its strength.
Following the removal of part of your tooth's natural structure, a restoration will be needed to restore strength and lend support to the treated tooth. A dental crown is a prosthetic that completely covers a tooth. Crowns can be made from metal, porcelain, or a combination of the two.
The crown prevents the return of infection and allows patients to bite and chew with ease. The cap will be designed to naturally fit with the occlusion of your natural teeth. Porcelain crowns offer the added advantage of blending in with your natural teeth.
Are There Alternatives to Crowns?
In some cases, an inlay or onlay may be used to restore a tooth following root canal therapy. These preformed prosthetics can restore a tooth, but only if extensive amounts of natural tooth structure were not removed. Our doctors will choose between an inlay, onlay, or crown depending on your oral health needs and other factors.
How Will My Crown Be Placed?
Immediately after your root canal procedure, you will be fitted with a temporary crown. Images or impressions will be made so a trusted dental laboratory can fabricate your permanent crown. After a few weeks, a follow-up visit to our Cathedral City dental office will be scheduled.
One of our doctors will ensure that your crown is a presice fit and that it matches the aesthetics of your natural teeth. Once you and your doctor are fully satisfied with the look and feel of your crown, it will be placed using a strong cement. With proper care, dental crowns can last for 10 or 15 years on average.
Maintenance and Aftercare
Side effects following dental crown placement are minimal. Some patients may feel that their bite is "off" for a few days or even weeks. Temperature sensitivity is also common. These side effects will naturally wear off with time.
Crowns should be cleaned and maintained like natural teeth. Good oral hygiene habits will ensure that the supportive bone and nearby gum tissue remain strong and healthy.
Schedule Your Next Visit Today
A root canal infection is a dental emergency that can jeopardize your oral and overall health. The advanced infection requires immediate endodontic treatment. Following your treatment, you may be fitted with a durable dental crown.
To schedule your visit, please contact our office online or call (760) 324-4450. Our office will schedule a same-day visit to address your dental emergency.